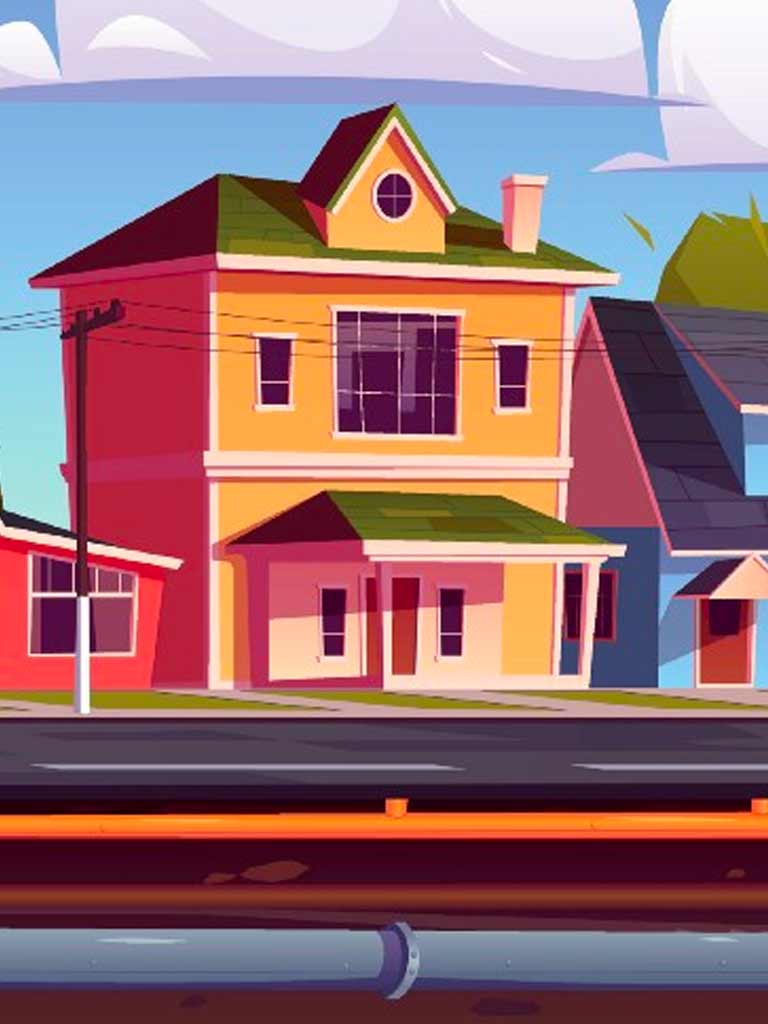 The Scope
Growth in urbanisation, population density and its resulting environmental impact is putting a huge pressure on the Utilities and Construction industry. The efficiency, safety, sustainability, and profitability of the Utility and Construction sector directly impacts the global economy. The world around us (above surface) is already complex, but that is just the tip of the iceberg! Subsurface assets such as water, sewer, gas, and communications pipelines constitute the vital foundations of a country's infrastructure.
Accidental cable and pipe strikes results not only in huge costs (repairs and fines) and project delays but pose a massive health and safety risk to lives. Eliminating risks to property & life and improving workflow processes associated with the inspection and mapping of these assets can save lives and drive efficiencies at lower maintenance costs.
Two major programs addressing these issues, Mapping the Underworld (2005) and National Underground Asset Register (2019), were launched in the UK with the support of EPSRC and the UK Geospatial Commission, respectively. The EPSRC project aimed at developing a multi-sensor system with radio and sound-based sensors, concluded in 2015. The National Underground Asset Register (NUAR) project is aimed at locating smaller pipes & cables and digitising them with the existing council records and will conclude in March 2021.
The Location Uncertainty & Associated Legality
A vast majority of subsurface assets in the UK are privately owned by Utility companies or commercial operators (energy, oil and gas (O&G), and chemical companies). These are used to transport clean fresh water into our homes and other vital areas (commercial building, agriculture etc.) and a combination of sewerage pipelines (large and small) carry waste away to be treated, whilst storm drains help to reduce flooding and other environmental problems.
There are others that carry products, such as aviation fuel & chemicals for airports and factories; and medical gas pipeline systems (MGPS) that carry oxygen to our hospitals. Most of the existing pipeline infrastructure was laid down in the 1960's and are underground for health and safety reasons and to reduce their vulnerability to terrorist attacks.
With the rising pressures on land availability, infrastructure developers are dealing with the lack of information on subsurface assets during construction. Knowing only the existence of such assets underground, or on a particular construction site, is not enough. Infrastructure developers, particularly housing, are finding it difficult to evaluate the safety and risks posed when constructing over a piece of a land.
Opting for development consent orders (DCOs) or compulsory purchase orders (CPOs) for real estate developers and planning lawyers can be an alternative but the process is time-consuming. Once issued, the asset owner or the pipeline operator is obliged to ascertain the exact location of the asset, how much of it belongs to them and any cost or safety implications it may have on their business.
Underground asset location is vital to raising objections to a DCO or a CPO, especially if the location in question is essential to the local community, businesses, or economy. Lack of such information can result in accidents and project delays. It is estimated that third party damage to utility assets costs £150 Million per annum, while the indirect costs to the UK economy are estimated to be 10x of this. In the US the underground utility damage, due to lack of information is estimated to be $50 to $100 billion annually.
The Ageing Critical Infrastructure
In the UK alone, a combined subsurface network of water, sewer, gas & electricity assets extends to over 1.5 Million km. Some of the old assets go back to the Second World War, when they were laid down by the British government and a few minority date back to the Victorian times.
Just water and wastewater assets alone (sewers and water mains) amass to a whopping 750,000 km — that's approximately the distance to the Moon and back! Some of these assets are ageing — they crisscross the entire UK and their whereabouts are unknown to a vast majority of the public.
Large diameter (>600mm) sewers or critical wastewater (CWW) assets are the trickiest to get to and may require confined space person entry (NC2, NC3, or even NC4) — putting equipment and lives at risk!
Critical assets are the ones that have the potential to significantly impact the delivering of network objectives and should never fail in an ideal situation — ISO 55000 2014
It is expected that CWW assets be inspected regularly. However, in practice, the fact is that inspection schedules are often based on several factors:
Utilities (engineers and operators) experience and intuition,
Customer complaints, or
Selections based on either age, material and operational conditions
Such an approach results in biased data and inefficient inspection programs, making any form of extrapolation from such data to the wider network extremely uncertain. Furthermore, the availability of affordable and reliable solutions for CWW has been limited until recent years; even then these solutions have provided only condition assessment data and only limited location information, if any at all. This is due to the major technical challenges associated with locating and mapping CWW assets without person-entry, important in reducing the costs and improving health and safety.
The Technical Impediment
Closed circuit television (CCTV) is one of the most commonly applied inspection techniques. The last few decades have seen some remarkable improvements in image quality in the obtained footage. However, the CCTV concept has been repeatedly criticised. The issues are twofold:
Limited information type — e.g., just a snapshot with no further information on deterioration process; no information on the amount of in/ex-filtration; no geometry and limited material information.
Low accuracy and repeatability — e.g., relatively large percentage of false negatives (>25% in some cases) due to dependence on human observation of images; lack of consistent and representative ground truth data to train numerical methods or algorithms.
Non-invasive ground penetrating radar (GPR) & electrical resistivity tomography (ERT) and associated data processing techniques (e.g., condition assessment, 3D GPR) have been a viable solution to detect and locate shallow buried assets (1–5 meters).
However, the requirement of improved sensor range and resolution of radio & sound-based sensors are a strong technical impediment in locating deep subsurface (>15m) assets. The back-scattered signal quality depends on several factors, e.g., dielectric constant (amount of water in the subsurface); or scattering coefficients (primarily due to shallow subsurface assets). Furthermore, extensive calibration and post-processing techniques makes it an arduous task.
Another common issue when deploying sensors in CWW assets is to be able to compensate for turbulent flow of the water. Often, operators or CWW asset owners resort to people-entry and scanning with traditional surveying techniques, e.g., using survey-grade LiDAR sensors. Although highly accurate, this approach is expensive, needs calibration targets, and is a huge health, safety and environment (HSE) risk. As a result, a large proportion of the assets remain inaccessible and unmapped.
One Small Step — The Beginning
A recent study illustrates the startling difference in the number of incidences between the US and Japan. In 2016, the number of incidence recorded in the US alone was between 400,000 to 800,000 a year (that's 1 to 2 incidents every minute). The same year, Japan recorded 134 incidents. This raises an interesting question — what was done differently in Japan?
The answer, however, is not a simple one. It involves a multi-faceted approach that includes changes in policies, regulation, practices, and the adoption of new technologies. The study also revealed that a similar approach in Heathrow led to the a major decline in accidents (up to a factor of 6 since 2002).
In my experience so far, major issues still remain — devising innovative business models that provides incentives and ROI to asset owners or Utilities in creating new inspection and mapping work; and ensuring technological solutions are robust, safe, modular, compliant to open standards and easily scalable (an important driver to bring cost down). The rest, in my opinion, is down to the law of supply and demand.
The above issues and the potential of a real business and technological solution has reinforced a career long ethos in me — to connect science & technology and good practice in making the world a better place for us and our children.
Three years ago I started Headlight AI with Jameel Marafie and with the help of Entrepreneur First. I had just finished working on my PhD in Signal Processing with a special focus on data processing of photon counting LiDAR and Sonar sensors. After months of research, major pivots, and a series of interviews with industry experts, we decided to address the challenge of digitisation of subsurface environments and assets. Our research revealed limited solutions and that this is going to be an ever-growing global issue due to rising population and increasing construction activity.
After years of R&D and development of a series of prototypes, trialled in collaboration with UK based Utilities and partners, we launched Telesto™ in 2020 — a multi-sensor system, that can locate, map and inspect (2D and 3D) large CWW assets. The video here presents the problem and the solution in detail.
This award winning technology (Institute of Water 2020 and Pipeline Guild 2020) is capable of locating (a feature we launched in January 2021) and creating a digital platform that: locates and maps critical assets underground; combines CCTV and LiDAR data; and is smart enough to assist operators and automate the process of identifying defects.
One Giant Leap — The Future
We will working even closer with our customers and partners in deploying Telesto™ across the UK CWW network and further improving its features. Of course, Telesto™ is not the only solution we are working on. For example, later this year the Prometheus drone project, a project led by Headlight AI, will deliver a series of solutions that will map subsurface mines and voids under the railway network using an reconfigurable autonomous drone and Headlight AI's Dragonfly technology. Other work also includes the miniaturisation of Telesto™ technology in locating and mapping even smaller assets, e.g., <600mm pipes.
Our mission is to locate, map, inspect and organise information of critical subsurface assets all over the world. A dauting task… but personally, it has become a passion worth obsessing over!
If you would like to hear more or would like more information please do follow me or connect with me on LinkedIn or Twitter.
Intelligence Illuminates!